Mariusz
widziany: 10.02.2018 17:45
...
GRA TOM CLANCY'S Splinter Cell:
Blacklist [ PC ] PL 2013 CHOMIKUJ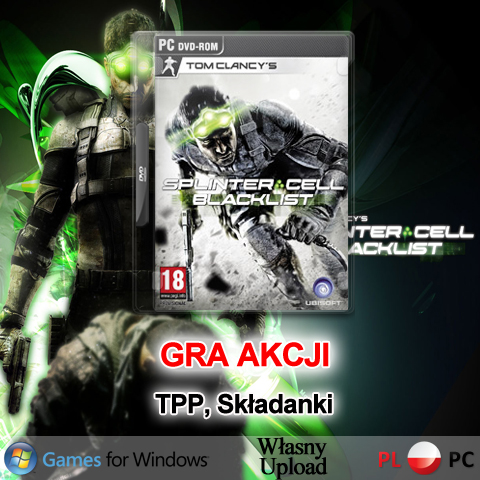 Tom Clancy's Splinter Cell: Blacklist Tom Clancy's Splinter Cell: Blacklist to dynamiczna gra akcji z widokiem z perspektywy trzeciej osoby (TPP), wyprodukowana przez studio Ubisoft Toronto. Fabuła przedstawia zmagania z międzynarodową siatką terrorystyczną. Gracz kieruje poczynaniami agenta Sama Fishera, który wraz z organizacją Fourth Echelon ma zadanie powstrzymać terrorystów planujących serię ataków na Stany Zjednoczone.

GRAFIKI Z GRY: GRA Tom Clancy's Splinter Cell Blacklist PC


Tom Clancy's Splinter Cell: Blacklist
jest szóstą, pełnoprawną odsłoną popularnego cyklu gier akcji z Samem Fisherem w roli głównej. Za produkcję odpowiada kierowane przez Jade Raymond studio Ubisoft Toronto, wsparte przez zespoły deweloperskie Ubisoft Montreal oraz Ubisoft Shanghai.
Fabuła gry przedstawia zmagania z fikcyjną, międzynarodową organizacją utworzoną przez narody przeciwne światowej dominacji Stanów Zjednoczonych. Terroryści tworzą tytułową Blacklist, czyli listę celów, jakie zaatakowane zostaną na terenie USA. W obliczu zagrożenia prezydent decyduje się zezwolić agentowi Samowi Fisherowi i kierowanemu przez niego Czwartemu Eszelonowi podjąć wszelkie kroki, niezbędne do zatrzymania tego straszliwego odliczania.
Główny bohater, ponownie ubrany w charakterystyczny kombinezon taktyczny oraz gogle, uczestniczy w niebezpiecznych misjach umiejscowionych w różnych zakątkach świata (m.in. w Iraku i Indonezji). Podczas akcji korzysta z rozmaitych rodzajów broni oraz specjalistycznego ekwipunku, chociażby dronów.
Rozgrywka w
Tom Clancy's Splinter Cell: Blacklist Chomikuj
stanowi połączenie elementów znanych z poprzednich części serii (chociażby system "Mark & Execute" z Conviction) z innowacjami, jak możliwość przywołania wsparcia ogniowego, widowiskowa wspinaczka czy akcje dokonywane przy pomocy komend głosowych.
WYMAGANIA SPRZĘTOWE:
Core 2 Duo 2.6 GHz, 2 GB RAM (4 GB dla Vista/7), karta grafiki 512 MB (GeForce 8800 lub lepsza), 25 GB HDD, Windows XP(SP3)/Vista(SP2)/7(SP1)/8, łącze internetowe
Tryb gry:
single / multiplayer
Tryb multiplayer:
Internet

INSTALACJA GRY:

1. POBIERZ 21 PARTÓW I WYPAKUJ ZA POMOCĄ WINRAR
2. OTRZYMANY OBRAZ ISO ZAMONTUJ W NAPĘDZIE LUB NAGRAJ NA PŁYTĘ
3. ZAINSTALUJ GRĘ
4. POBIERZ 2 PARTY [ UPDATE 1 ] WYPAKUJ ZA POMOCĄ WINRAR I ZAINSTALUJ
5. POBIERZ I WYPAKUJ CRACK DO FOLDERU Z GRĄ
6. GRAJ :)

■ [ GRA POSIADA POLSKIE NAPISY ]
■ PO WYPAKOWANIU OBRAZ ISO [ POLSKA WERSJA ]
■ POLSKA WERSJA GRY [ CLONE DVD ]

+5% DANE NAPRAWCZE
INFO:
Jeżeli chcesz POBRAĆ GRĘ, to wpierw ZACHOMIKUJ JĄ ode mnie na swoje konto
(wystarczy kliknąć na samym dole w opcje "Zachomikuj folder").
Tak będzie BEZPIECZNIEJ, gdyż gra za godzinę lub następnego dnia może zostać zablokowana
i nie będzie dla Ciebie widoczna.
■ DRUGI CRACK [ DZIAŁAJĄ SAVE ]
■ PIERWSZY CRACK [ MOGĄ WYSTĄPIĆ CRASHE ]

Zaprzyjaźnione i polecane chomiki
(88)