Łukasz
widziany: 12.04.2017 16:58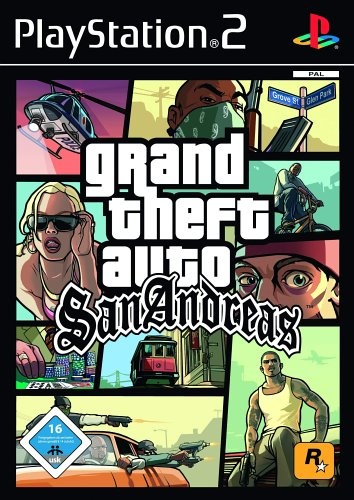 W "Grand Theft Auto: San Andreas" wcielamy się w Carla Johnsona, uciekiniera z wiecznego miasta – Los Santos. Dlaczego postanowił uciec z opanowanej przez korupcję, narkotyki i gangi metropolii? Niestety, gangi panujące w dawnym mieście naszego bohatera niebezpiecznie zbliżyły się do jego rodziny. To wystarczyło – Carl wraca na stare śmieci, łączy swe siły z bratem i postanawia wykurzyć wszystkich, niebezpiecznych według niego, opryszków. Jednakże to nie wszystko – w międzyczasie Carl popada w konflikt z prawem, a naszym zadaniem jest wyciągnięcie go z kłopotów.
W "Grand Theft Auto: San Andreas" w odróżnieniu do poprzednich dwóch gier z serii (GTA III oraz GTA: Vice City) możemy zwiedzić trzy ogromne miasta tworzące stan San Andreas: Los Santos (Los Angeles), San Fierro (San Francisco) i Las Venturas (Las Vegas). Każde z nich oczarowuje nas jedynym w swoim rodzaju klimatem, który tworzą zarówno charakterystyczne budowle (np. dzielnice domków jednorodzinnych, most Golden Gate i charakterystyczne, strome uliczki oraz wszędobylskie kasyna), jak i ludzie, których napotkamy w poszczególnych mieścinach. W każdym z miast czeka na nas szereg atrakcji: studia tatuażu, siłownie, w których popracujemy nad muskulaturą, sale gimnastyczne, salony fryzjerskie (dziesiątki fryzur do wyboru), bary szybkiej obsługi, w których nabierzemy masy... z pewnością nie mięśniowej ;) i wiele, wiele innych równie ciekawych miejsc. Nie można zapomnieć o dziesiątkach nowych pojazdów, z których najatrakcyjniej prezentują się BMX, monster truck, kombajn oraz kosiarka do trawy. Dla osób lubujących się w przyjmowaniu różnorakich posad autorzy przygotowali m.in. pracę w roli parkingowego, a dla uzdolnionych sportowców – zaawansowany system koszykarski (wraz z możliwością ubrania naszego bohatera w najmodniejsze, koszykarskie ciuszki).
Starzy wyjadacze bez problemów odnajdą się w nowym, brutalnym, opanowanym przez czarnoskórych bandytów świecie, ponieważ system misji został przeniesiony z poprzednich części GTA. Kilka usprawnień nie wpływa dezorientująco na zaawansowanych graczy, a dodaje jeszcze większej głębi i tak już rozbudowanej rozgrywce. Oprócz systemu misji poprawiono także takie elementy gry, jak: zdobywanie pojazdów, system walki wręcz oraz przy pomocą broni palnej (wprowadzono element rodem z gier RPG – Carl będzie ulepszał swoje możliwości we władaniu poszczególną bronią).
Nie ma plików w tym folderze

Chomikowe rozmowy

Zaprzyjaźnione i polecane chomiki
(7)