Alan
widziany: 28.05.2017 16:34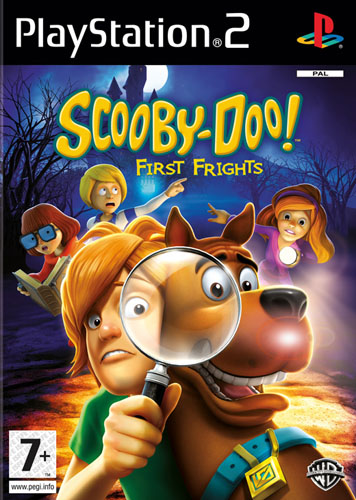 Gra przygodowo-zręcznościowa, w której śledzimy losy Scooby'ego i jego przyjaciół. W trakcie zabawy odwiedzamy cztery nawiedzone lokacje, między innymi stare zamczysko i pokład statku widmo.
Scooby-Doo! First Frights to produkt stanowiący połączenie gry przygodowej oraz zręcznościówki, wydany równolegle z premierą telewizyjnej produkcji zatytułowanej Scooby Doo! The Mystery Begins (Scooby-Doo Strachy i patałachy).
W trakcie rozgrywki śledzimy losy Scooby'ego, Shaggy'ego, Freda, Daphne i Velmy. Ciekawostką jest to, że akcja toczy się gdy główni bohaterowie są w młodym wieku, a więc na długo przed zawiązaniem słynnej Tajemniczej Spółki. First Frights stawia drużynę nastolatków przed problemem rozwiązania czterech spraw detektywistycznych, wymuszając jednocześnie konieczność odwiedzania nawiedzonych lokacji. Wybieramy się mianowicie do starego zamczyska, opustoszałego wesołego miasteczka, budynku szkoły średniej oraz na pokład statku-widmo. Za każdym razem naszym głównym zadaniem jest zdemaskowanie osoby odpowiedzialnej za straszenie niewinnych ludzi.
Właściwa zabawa dzieli się niejako na dwa rodzaje etapów. Zdecydowanie ciekawiej prezentują się sceny akcji, kiedy to jesteśmy zmuszani do neutralizacji przeciwników lub podejmowania ucieczek przed głównym złoczyńcą. Ciekawostką jest to, że sterowane postaci mogą zakładać różne elementy ubioru, próbując przechytrzyć wrogów dzięki przebraniu. Możliwe jest ponadto stosowanie specjalnych ataków oraz sukcesywnie odblokowywanych umiejętności. Gdy nie jesteśmy zajęci walką skupiamy się na starannej eksploracji okolicy, zbieraniu dowodów rzeczowych oraz rozwiązywaniu prostych zagadek logicznych.
Opisywana produkcja oferuje dużą swobodę przy wyboru głównego bohatera. W dowolnym momencie rozgrywki możemy przełączyć się na inną grywalną postać, tak by zastąpić wystraszonego sojusznika czy zająć się rozwiązaniem zagadki zarezerwowanej wyłącznie dla danego członka ekipy. First Frights ma też do zaoferowania pełnoprawną kooperację, w której drugi gracz może do woli dołączać do rozgrywki i ją opuszczać.
Zmagania Scooby'ego i jego przyjaciół obserwujemy w pełnych trzech wymiarach, badając ładnie wykonane lokacje i będąc świadkami wielu zabawnych scenek.

Chomikowe rozmowy

Zaprzyjaźnione i polecane chomiki
(47)