adam
widziany: 9.09.2017 22:23

INFO
Artist: VA
Title: Vh1's 100 Best Songs of the 90's
Released: 2012 / Genre: Club, Pop, Disco
Format: MP3 | 192 kbps / Size: 410 MB


01. Nelson - (Can't Live Without Your) Love And Affection 03:54
02. Sheryl Crow - All I Wanna Do 04:34
03. Britney Spears - #7 - ...Baby One More Time 03:32
04. Right Said Fred - I'm Too Sexy 02:51
05. Ricky Martin - Livin' La Vida Loca 04:03
06. Barenaked Ladies - One Week 02:46
07. Oasis - #35 - Wonderwall 04:18
08. Marky Mark And The Funky Bunch - #47 - Good Vibrations 04:29
09. Backstreet Boys - I Want It That Way 03:33
10. Matchbox Twenty - 3 Am 03:47
11. Counting Crows - #27 - Mr. Jones 04:28
12. U2 - One 04:36
13. Weezer - Buddy Holly 02:39
14. Geto Boys - Mind Playing Tricks On Me 05:11
15. The Breeders - #83 - Cannonball 03:35
16. Liz Phair - Never Said 03:16
17. Nirvana - Smells Like Teen Spirit 05:01
18. Emf - Unbelievable 03:30
19. Sir Mix-A-Lot - #6 - Baby Got Back 04:26
20. Vanilla Ice - Ice Ice Baby 04:31
21. Meredith Brooks - Bitch 04:11
22. Missy "Misdemeanor" Elliott - The Rain (Supa Dupa Fly) 04:11
23. Mc Hammer - #16 - U Can't Touch This 04:17
24. Hanson - Mmmbop 04:28
25. Edwin Mccain - I'll Be 05:27
26. Destiny's Child - #17 - Say My Name 04:31
27. Lisa Loeb - Stay 03:03
28. Digital Underground - The Humpty Dance 06:34
29. Billy Ray Cyrus - #87 - Achy Breaky Heart 03:24
30. Duncan Sheik - #88 - Barely Breathing 04:15
31. Rem - #9 - Losing My Religion 04:28
32. Hootie & The Blowfish - #45 - Only Wanna Be With You 03:46
33. Naughty By Nature - #53 - O.P.P. 04:29
34. Public Enemy - #92 - 911 Is A Joke 03:17
35. Lenny Kravitz - #78 - Are You Gonna Go My Way 03:31
36. Cher - Believe 03:58
zachomikowany

INFO
Artist: VA
Album: Radio Monte Carlo Romantic
Year: 2012
Label: (?)
Genre: Pop
Codec: MP3
Bitrate audio: 119 Kbps avg CBR
Playtime: 13:42:04
Total Size: 717 mb


001. East 17 - House Of Love
002. Toni Braxton Feat.Trey Songz - Yesterday
003. Monrose - Why Not Us
004. James Blunt - 1973
005. Jimmy Somerville - To Love Somebody
006. Sean Paul - Give It Up To Me
007. Simply Red - Say You Love Me
008. Chris Rea - Josephine
009. All Saints - Lady Marmalade
010. En Vogue - Don T Let Go Love
011. Cher - Dov E L Amore Original
012. Corrs - Breathless
013. Craig David - I M Walking Away
014. The Streets - Dry Your Eyes
015. Shakespears Sister - Stay
016. Mr Big - To Be With You
017. Ramzi - Pretending
018. Colbie Caillat & Jason Mraz - Lucky
019. Ricky Martin - Casi Un Bolero
020. Chris De Burgh - When I Think Of You
021. R.E.M. - Daysleeper
022. Billy Idol - Sweet Sixteen
023. Aloha From Hell - Walk Away
024. Eric Saade - Still Loving It
025. Encore - The One
026. Linkin Park - Burning In The Skies
027. Akon - Burn That Bridge
028. Tinie Tempah Feat.Ester Dean - Love Suicide
029. Eros Ramazzotti - Ora
030. Keri Hilson Feat.Nelly - Lose Control(Let Me Down)
031. Katy Hudson - Trust In Me
032. Jc - Glass Ceiling
033. Charice Feat.Iyaz - Pyramid
034. Geri Holliwell - Let Me Love You More
035. Inner Circle - Sweat(A La La La La Long)
036. Lunik - Go On
037. Sugababes - Mended By You
038. Vanilla Ninja - When The Indians Cry
039. Engelbert Humperdinck - Can't Take My Eyes Of You
040. Toni Braxton - How Could An Angel Break My Heart
041. Ortiz - Hotel California
042. Agnetha Faltskog - If I Thought You'd Ever Change Your Mind
043. Annie Lennox - A Thousand Beautiful Things
044. Delta Goodrem - Out Of The Blue
045. Eamon - (How Could You)Bring Him Home
zachomikowany

INFO
Artist: VA
Title: 80 From The 00s
Release: 2012
Genre: Dance, Pop
Quality: 320 kbps
Size: 660 MB


01. Rihanna feat. Jay-Z - Umbrella
02. Lady Gaga feat. Colby O'Donis - Just Dance
03. Shakira featuring Wyclef Jean - Hips Don't Lie
04. Maroon 5 - She Will Be Loved
05. Hinder - Lips of an Angel
06. Christina Aguilera - Beautiful
07. Sandi Thom - I Wish I Was a Punk Rocker (With Flowers in My Hair)
08. Bodyrockers - I Like The Way
09. DJ Otzi - Hey Baby (Uhh, Ahh)
10. Akon - Lonely
11. Nelly Furtado feat. Timbaland - Promiscuous
12. Elvis vs. JXL - A Little Less Conversation
13. The Killers - Mr. Brightside
14. Sugababes -Push the Button
15. Jamelia - Superstar
16. Missy Higgins - Scar
17. Youth Group - Forever Young
18. Afroman - Because I Got High
19. The Fray - You Found Me
20. Lifehouse - Hanging by a Moment

CD 2
01. Alien Ant Farm - Smooth Criminal
02. Gwen Stefani - What You Waiting For?
03. Fergie - Big Girls Don't Cry
04. Gabriella Cilmi - Sweet About Me
05. The Veronicas - Hook Me Up
06. Ashlee Simpson - Boyfriend
07. Miley Cyrus - Party in the U.S.A.
08. Hoobastank - The Reason
09. LeAnn Rimes - Can't Fight The Moonlight
10. R. Kelly - Ignition (Remix)
11. Ja Rule feat Ashanti - Always On Time
12. 2Pac feat. Elton John - Ghetto Gospel
13. La Roux - In For The Kill
14. Fall Out Boy - This Ain't a Scene, It's an Arms Race
15. 3 Doors Down - Kryptonite
16. SUM 41 - In Too Deep
17. Kasey Chambers - Not Pretty Enough
18. Colbie Caillat - Bubbly
19. Baha Men - Who Let the Dogs Out?
20. Armand Van Helden - My My My
zachomikowany

Info:
Artist: VA
Title: Pete Waterman Presents: The Hit Factory
Released: 2012 / Genre: Pop, Dance
Format: MP3 | 320 kbps / Size: 412 MB



CD 1:

01.Mel & Kim - Respectable
02.Rick Astley - Never Gonna Give You Up
03.Kylie Minogue - I Should Be So Lucky
04.Dead Or Alive - You Spin Me Round (Like A Record)
05.Bananarama - Love In The First Degree
06.Jason Donovan - Too Many Broken Hearts
07.Sonia - You'll Never Stop Me Loving You
08.Lonnie Gordon - Happenin' All Over Again
09.Loveland Featuring Rachel McFarlane - Let The Music (Lift You Up)
10.Sybil - When I'm Good And Ready
11.Brother Beyond - The Harder I Try
12.Hazell Dean - Whatever I Do (Wherever I Go)
13.Divine - You Think You're A Man
14.Sinitta - Toy Boy
15.Big Fun - Blame It On The Boogie
16.Pepsi & Shirlie - Heartache
17.Princess - Say I'm Your Number One
18.Kylie & Jason - Especially For You
19.Steps - Heartbeat

CD 2:

01.Kylie Minogue - Hand On Your Heart
02.Bananarama - Venus
03.Hazell Dean - Who's Leaving Who
04.Cliff Richard - I Just Don't Have The Heart
05.Rick Astley - Together Forever
06.Sinitta - Cross My Broken Heart
07.Samantha Fox - Nothing's Gonna Stop Me Now
08.Dead Or Alive - Lover Come Back (To Me)
09.Opus Iii - It's A Fine Day
10.Stock Aitken Waterman - Roadblock
11.Princess - I'll Keep On Loving You
12.Lonnie Gordon - Beyond Your Wildest Dreams
13.Jason Donovan - Sealed With A Kiss
14.West End Featuring Sybil - The Love I Lost
15.Brother Beyond - He Ain't No Competition
16.Sonia - Listen To Your Heart
17.The Reynolds Girls - I'd Rather Jack
18.Mel & Kim - Showing Out (Get Fresh At The Weekend)
19.Steps - Tragedy
20.The Wip 2 Tribute Mix
zachomikowany

Info:
Year: 2012
Genre: Pop
Duration: 5:51:06

Format: MP3
Bitrate: 256 kb / s
Type of bit rate: CBR



001 Zebosy - Tanned Ass
002 Shamil (ex. Oscar) - Always Be Yourself
003 Alabama - Spanish Summer
004 DJ Richi - Beach (Radio Mix)
005 Vladimir Brest - this summer
006 Tina - I do not take Tube (Version 2012)
007 Yuri Shatunov - Hello
008 Iryna Bilyk - My Love is Like Berries
009 Vladimir Lev's and Anna Herzen - Hot Summer
010 Dasha Suvorov - Old Movies
011 The Secret of Mind - In the world everything is possible
012 Anna Semenovich - The July Summer
013 Dirty Rotten Scoundrels - Rousseau, Tourists
014 Samir - My Brunette
015 Varda & Vitaly Kozlovsky - Dance
Continuation Sheet Track
016 Yin-Yang - ET
017 Sara Oks & Ivan Keith - Fight Without Rules
018 Antony Thompson feat. DJ Night Rush - a hot July
019 Anton Herr (Herr Anton) - Alka Now!
020 Avraam Russo - Unloved
021 Real O - Luna (I'm in the White dress)
022 140 beats per minute - inhale Thee
023 Alla Pugacheva - Keep it safe, daughter
024 Turbomoda - Little Secret
025 Sofia Rotaru - Two Suns
026 Stas Peha - Old Story
027 Mary Sobko - Come With Me
028 Dima Bilan - Honey
029 Paul - Be With Me
030 Ruslan - HER-forі-I!
031 Amsterdam - City of Happiness
032 Yuri Shatunov - Summer Rainfall
Amin 033 - Days of Week (DJ Nariman Mix)
034 Nikita - Tears
035 Dilays - Softly-Softly
036 5sta Family - Crying Rain
037 Dj Fenix ​​& Kathy Soul - Tell Me Yes
038 T1One feat. Karen - Sweetheart
Natalie Gulkina 039 - Delete (ABS-digital remix)
040 Ivan Romanov - Moscow-New York (CJ Alexey Lavrentev Remix)
041 Secret Baby! - Pearl (Ural Dj's Remix)
Yulia Beretta 042 - Kitten
043 Aslan and Eldar Dalgatov - Opa Opa
044 Glamour - predator
045 Xenia Malinka - In Love
046 Ivan KIT - Say I Love You
047 Mary - Take all
Natalie Katerlin 048 - Yura
049 Tanya Stepanova - watching you
050 Chinchillas - Sasha Pushkin
zachomikowany

Label: Sony Music / Prologic
Title: Planeta Born To Party
Release: 2012
Genre: Trance, Club, Progressive
Quality: MP3 256 kbps
Size: 110 MB

Bardzo rzadko w Polsce impreza spod szyldu najlepszych transowych nazwisk może się pochwalić nie tylko udaną jej częścią i niezłą frekwencją ale także kompilacją, która sygnowała wydarzenie i została wydana właśnie na pamiątkę uczczenia wydarzenia. Planeta Born To Party odbyła się 6 czerwca tego roku w Poznaniu, a więc mamy już to za sobą, jednak niejedną noc i długie godziny może umilać nam krążek pod taką samą nazwą.



01. Cosmic Gate with Arnej - Sometimes They Come Back For More
02. Markus Schulz & Dennis Sheperd - Go!
03. Paul Oakenfold feat. Robert Vadney - Pop Star
04. Antoine Clamaran - Gold
05. Tiësto pres. Allure feat. JES - Show Me The Way
06. Chicane - Going Deep
07. Above & Beyond feat. Zoë Johnston - Love Is Not Enough
08. Paul Van Dyk feat. Adam Young - Eternity
09. Richard Durand feat. Hadley - Run To You
10. Dash Berlin feat. Sarah Howells - Go It Alone
11. Roger Shah feat. Sian Kosheen - Hide U
12. Matt Darey feat. Leah - Hold Your Breath
13. Aly & Fila feat. Jwaydan - We Control The Sunlight
14. Dabruck & Klein feat. Stella Attar - Heartbeat
15. Markus Schulz pres. Dakota feat. Grandmaster Melle Mel & Scorpio - Sleepwalkers

BONUS TRACK:
16. Armin Van Buuren feat. Ana Criado - Suddenly Summer (Original Mix)
zachomikowany
.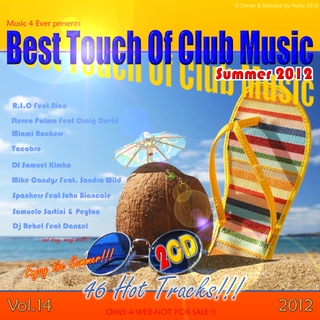 Best Touch Of Club Music vol.14 Summer 2012
TitLe ...........: Best Touch Of Club Music vol.14 Summer 2012
GeNrE ...........: Dance/House
SouRcE ..........: WEB
QuAlitY .........: Var-kbps 44,1Hz JoinStereo
TrAcKs ..........: 46
ToTaL TimE ......: 157,43 min
ToTaL SizE ......: 346,4 mb


Traclist:

CD: 01

01 Michael Mind Project Feat. Dante Thomas - Feeling So Blue (Radio Edit) 02:50
02 Timati & La La Land Feat. Timbaland & Grooya - Not All About The Money (Radio Edit) 03:10
03 R.I.O Feat Nico - Party Shaker (Video Edit) 03:29
04 Omar Calia feat Niccolo'de Santis - I Don't Care (Club Edit Mix) 03:32
05 City Shakerz - Love Somebody (Pit Bailay vs. City Shakerz Club Mix Edit) 03:17
06 Jordi MB Feat Jason Rene - Lady (Say Hey) (Euro Mix) 03:02
07 Novaspace - On the Radio (Nello Radio Edit) 03:24
08 Be Angel - Back In My Life (Original Edit Mix) 03:34
09 Pitbull - Back In Time (Featured In Men In Black III) 03:35
10 Dj Rebel Feat Danzel - You Make Me Happy (Radio Edit) 03:25
11 Miani feat Christian Di Pasquale - Love Hasn't Age (Radio Classic Mix) 03:22
12 Bosson - Love Is In The Air (Chris Heart Radio Edit) 03:30
13 Spankers Feat John Biancale - Italian (Paolo Ortelli Vs Degree Edit) 02:54
14 Dereck - Siente (Stephan F Remix Edit) 03:20
15 Spencer & Hill Feat. Mimoza - Let Out Da Freak (Mypd Radio Edit) 03:33
16 Money-G Feat Falco - Jeanny 2011 (UK Edit) 03:30
17 Shooters Feat Erica Gonzaba - I Wanna Love You (Andy F Radio Edit) 03:14
18 DJ Gollum Feat. DJ Cap - Don't Look Back (Danny Suko Mumpf Party Edit) 03:29
19 Mick Lion - There She Goes (Bbop And Roksteadi Radio Edit) 03:46
20 Offer Nissim & Itay Kalderon Ft. Maya - Over & Over (Radio Edit) 03:49
21 Victor Ark - Unforgettable (Paul Neville Radio Remix) 04:38
22 Master Blaster - Let's Get Mad (Radio Edit) 03:07
23 Johans Pa - Te Recuerdo (Radio Edit) 03:16



zachomikowany

☆☆☆☆☆☆☆☆☆☆☆☆☆☆☆☆☆☆☆☆☆☆☆☆☆☆☆☆☆☆☆☆☆☆☆☆☆
Album: The Best Of 1980 - 1990 Vol.02 3CD
Genre: Dance
Ripped by:MagKosz
Bitrate: 320 kbps
Channels: Stereo / 44100 hz
Track: 50
Playing Time: 03:25:13
Total Size: 497 MB
MP3 RAR
☆☆☆☆☆☆☆☆☆☆☆☆☆☆☆☆☆☆☆☆☆☆☆☆☆☆☆☆☆☆☆☆☆☆☆☆☆


CD1

01. Bobby Mc Ferrin - Don't Worry Be Happy
02. Roxy Music - Jealous Guy
03. Belinda Carlisle - I Get Weak
04. UB40 - I Got You Babe
05. Laura Branigan - Self Control
06. Milli Vanilli - Girl I'm Gonna Miss You
07. Samantha Fox - Nothing's Gonna Stop Me Now
08. Heaven 17 - Temptation
09. Jennifer Rush - I Come Undone
10. Roy Orbison - You Got It
11. Culture Club - Karma Chameleon
12. Tina Turner - Private Dancer
13. Orchestral Manoeuvres In The Dark - Maid Of Orleans
14. Stranglers - Golden Brown
15. Depeche Mode - People Are People
16. T'Pau - Heart And Soul
17. Mike Oldfield - Shadow On The Wall
18. Katrina & The Waves - Walking On Sunshine
CD2

01. Wham! - Freedom
02. Blondie - Call Me
03. Ultravox - Dancing With Tears In My Eyes
04. Billy Ocean - Caribbean Queen
05. Ashford & Simpson - Solid
06. Hall & Oates - Maneater
07. Cock Robin - The Promise You Made
08. F. R. David - Words
09. Terence Trent D'Arby - Sign Your Name
10. Chris Rea - Josephine
11. Pat Benatar - We Belong
12. Joe Cocker - Unchain My Heart
13. Leo Sayer - More Than I Can Say
14. Alice - Una Notte Speciale
15. John Waite - Missing You
16. Bill Medley & Jennifer Warnes - (I've Had) The Time Of My Life
zachomikowany




1. Jula - Za Każdym Razem
2. Alexandra – Popłyniemy Daleko
3. Ewa Jach - Mamy Czas
4. Zakopower - Bóg Wie Gdzie
5. Feel – Zwycięstwa Smak
6. Patrycja Markowska - Tylko Mnie Strasz
7. Blue Cafe – Buena
8. Kombii – Wyjazd Integracyjny
9. Sasha Strunin - To Nic Kiedy Płyną Łzy
10. Iza Lach – Nic Więcej
11. Wet Fingers - Małgośka2011
12. Duże Pe - Na Raz
13. Wolf Ft Doniu - Mam Już Dość
14. Tallib - Moja Lady
15. Rh+ - Tylko We Śnie
16. Helou! - 1000mil
17. Mezo – Zaufanie
18. Perfect - Czy To Ja (Czy Ktoś Inny)
19. Sylwia Grzeszczak – Sen O Przyszłości
20. Ania Wyszkoni - Po To Jesteś Tu

z chomika Eska-Free

Artist: VA
Title Of Album: Maxi Disco Hits: Best Of
Year Of Release: April 28, 2012
Label: Hargent New Media
Genre: Disco, Nu-Disco
Quality: mp3 | Stereo
Bitrate: VBR kbps | 44.1 Khz
Total Time: 01:36:38
Total Size: 187.78 mb

Tracklist
---------
01. Hit Megamix (Bambina, I Don't Wanna Loose You, Playboy, Bye Bye Mi Amor) - David Lyme
02. Fly With My to Wonderland (Maxi Version) - Rocky M
03. Out of the Night (Maxi Version) - Caron
04. Melody D'amour (Original Rare Version) - Facts & Fiction
05. Zoo Zoo (Special Maxi Version) - Bisquit
06. Turbo Dancer Remix (Megamix) - Fancy
07. Bad New-York City (Maxi Mix Version) - Geff Harrison
08. Julia (Maxi Remix) - KB Caps
09. Shadow in the Night (Maxi Version) - Kay Franzes
10. Casanova Action (Maxi Mix) - Latin Lover
11. Menergy (Mix Version) - Cowley
12. Jungle Man (African Man - Maxi Remix) - Veronique
13. Count On Me (Maxi Mix) - T.ark
14. Shot in the Night - Saphir
15. They Say It's Gonna Rain (Special Maxi Remix) - Hazell Dean

z chomika edi849

Genre : Disco
Bitrate : 911 kbps avg
Playtime : 01:15:21 (491.1MB)
Rls date : 2011-10-24
Store date : 1992-11-00
Encoder : FLAC 1.2.1


CZĘŚĆ I Z II


01. Rivers Of Babylon 4:17
02. Daddy Cool 3:27
03. Sunny 3:57
04. Brown Girl In The Ring 4:01
05. Rasputin 4:25
06. Ma Baker 4:06
07. Hooray! Hooray! It's A Holi-Holiday 3:55
08. Painter Man 3:17
09. Belfast 3:28
10. No Woman No Cry 4:18
11. Mary's Boy Child/Oh My Lord 4:02
12. Gotta Go Home 2:32
13. Still I'm Sad 4:25
14. Nightflight To Venus 3:50
15. Felicidad 2:52
16. El Lute 3:59
17. Baby Do You Wanna Bump 2:27
18. Kalimba De Luna 4:12
19. Happy Song 3:58
20. Mega Mix: Rivers Of Babylon/Sunny/Daddy 3:53
Cool/Ma Baker/Rasputin

zachomikowany
Artist::Modern Talking
Title::Original Album Classics (5xCD)
Genere::Euro Dance / Disco
Quality::AAC
Birate::293-352 Kbps
Size::456 MB
Year::2011

CD 1 - The 1St Album (1985)
1. You're My Heart, You're My Soul
2. You Can Win If You Want
3. There's Too Much Blue In Missing You
4. Diamonds Never Made A Lady
5. The Night Is Yours-The Night Is Mine
6. Do You Wanna
7. Lucky Guy
8. One In A Million
9. Bells Of Paris

CD 2 - Let's Talk About Love (1985)
1. Cheri Cheri Lady
2. With A Little Love
3. Wild Wild Water
4. You're The Lady Of My Heart
5. Just Like An Angel
6. Heaven Will Know
7. Love Don't Live Here Anymore
8. Why Did You Do It Just Tonight
9. Don't Give Up
10. Let's Talk About Love

СD 3 - Ready For Romance (1986)
1. Brother Louie
2. Just We Two (Mona Lisa)
3. Lady Lai
4. Doctor For My Heart
5. Save Me - Don't Break Me
6. Atlantis Is Calling (S.O.S. For Love)
7. Keep Love Alive
8. Hey You
9. Angie's Heart
10. Only Love Can Break My Heart

СD 4 - In The Middle Of Nowhere (1986)
1. Geronimo's Cadillac
2. Riding On A White Swan
3. Give Me Peace On Earth
4. Sweet Little Sheila
5. Ten Thousand Lonely Drums
6. Lonely Tears In Chinatown
7. In Shaire
8. Stranded In The Middle Of Nowhere
9. The Angels Sing In New York City
10. Princess Of The Night

СD 5 - In The Garden Of Venus (1987)
1. In 100 Years
2. Don't Let It Get You Down
3. Who Will Save The World
4. A Telegram To Your Heart
5. It's Christmas
6. Don't Lose My Number
7. Slow Motion
8. Locomotion Tango
9. Good Girls Go To Heaven - Bad Girls Go To Everywhere
10. In 100 Years (Reprise)
z chomika Music_

Zaprzyjaźnione i polecane chomiki
(304)