Archibald
widziany: 3.09.2017 09:07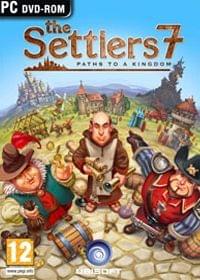 The Settlers 7: Droga do Królestwa to strategia czasu rzeczywistego koncentrująca się na warstwie ekonomicznej. Naszym zadaniem jest odpowiednie pokierowanie podległymi osadnikami, tak by nasze królestwo stało się krainą mlekiem i miodem płynącą. Tytuł stanowi powrót do korzeni serii, choć jednocześnie zadbano, by gra była atrakcyjna nie tylko dla weteranów cyklu.

The Settlers 7 oferuje dużą swobodę w wyborze ścieżki rozwoju naszego imperium. Możemy położyć nacisk na stronę militarną, handlową lub też na nowe technologie. Jednak sukcesy w tych dziedzinach są jedynie rezultatem zdrowej gospodarki. Dopiero dzięki mądremu zarządzaniu włościami oraz podwładnymi uzyskamy środki potrzebne do pokonania konkurencji. Walka jest kompletnie automatyczna i nie umożliwia ręcznego sterowania przebiegiem bitew. Sukces lub porażka podbojów jest więc głównie rezultatem tego, na jak dobre oddziały było nas stać.

W grze o wygranej decydują punkty zwycięstwa. Wymagania, jakie musimy spełnić, by je zdobyć, są różnorodne (np. wymyślenie odpowiednio zaawansowanej technologii). By wygrać, musimy uzyskać odpowiednią liczbę punktów i utrzymać je przez określony czas. Mechanizmy rozgrywki charakteryzuje spory stopnień skomplikowania. Bezproblemowe ogarnięcie przebiegu gry umożliwia przemyślany interfejs. Wszystko jest na miejscu i pod ręką. Gra na każdym kroku tłumaczy, jak co działa i podpowiada, co należy zrobić, by odnieść sukces.

W The Settlers 7: Droga do Królestwa zawarty został ponadto rozbudowany tryb rozgrywki wieloosobowej, uwzględniający zarówno rywalizację pomiędzy graczami, jak i kooperację. Produkcja Blue Byte zapewnia graczom dostęp do edytora poziomów oraz dodatków DLC. Zmagania zostały przedstawione za pomocą ładnej oprawy graficznej, za którą odpowiada zmodyfikowana wersja silnika Trinigy. Zastosowanie znalazła tu także zaawansowana sztuczna inteligencja – zarówno poddanych, jak i przeciwników.