Folder z materiałami dla osób pełnoletnich

Ten folder Chomika zawiera materiały, które mogą być oglądane tylko przez osoby pełnoletnie.
Czy chcesz zobaczyć zawartość tego folderu?
Download: 3 x Otto Muehl's Sexual Freedom (Friedrichshof) Commune documentaries.avi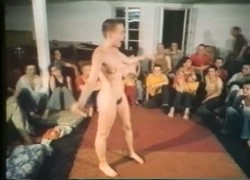 3 Documentaries on the Friedrichshof Commune in Austria. The commune was set up thirty years ago and proposes an alternative lifestyle where materialism in condemned, the nuclear family banished and the couple relationship forbidden. It was intended that the members of the commune would find liberation through free sex, art and therapy. In these programs members of the commune talk about the place and their experiences there.
Those documentaries, for they cover a long period (1972-76, 1988, 1998), also deliver a good insight in the development and change of the Austrian national broadcasting corporation (ORF) (and Austrian public opinion too) position toward the Kommune.
They also contains a lot of excerpts of movies produced by the Commune.
The first one is rather neutral and present it as a curiosity, not without a bit of voyeurism but also of sympathy.
The second one really looks like a industrial film (i.e. a commercial) for the Kommune after its "capitalistic turn" of the early 80's.
The third and last one takes place after the "fall" of Otto Muehl (his incarceration for child's abuse and his release in 1997) and is much more critic about the whole story.
Komentarze:
Aby dodawać komentarze musisz się zalogować
Inne foldery z plikami do pobrania