[PC&DvD&Mp3] 100% .....
widziany: 26.01.2019 08:42

---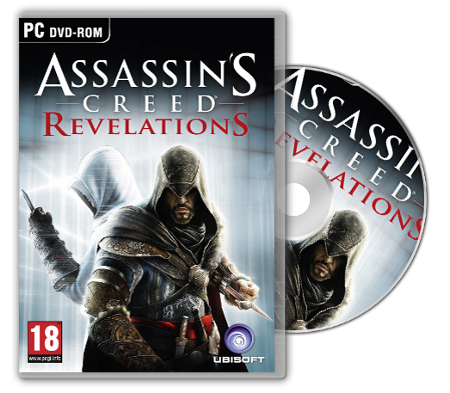 Core 2 Duo 2.6 GHz, 1.5 GB RAM (2 GB RAM - Vista/7), karta grafiki 512 MB (GeForce 8800 GT lub lepsza), 12 GB HDD, Windows XP/Vista/7, łącze internetowe



Czwarta odsłona serii Assassin's Creed i jednocześnie finalna część trylogii o Ezio. Główny bohater wyrusza śladami swego przodka Altaira, trafiając do średniowiecznego Konstantynopola.

Seria Assassin's Creed to bez wątpienia jedna z najpopularniejszych marek w portfolio koncernu Ubisoft. Mając na uwadze oczekiwania fanów, wydawca powierzył deweloping Assassin's Creed: Revelations wewnętrznemu studiu w Montrealu, jednocześnie zapewniając wsparcie ze strony zespołów Ubisoft Annecy, Massive, Quebec, Singapore i Bucharest. Twórcy gry postawili sobie za cel wzbogacić dotychczasowe znane miłośnikom cyklu elementy o nowe funkcje i opcje rozgrywki, zachowując przy tym zgodność z wykreowanym wcześniej uniwersum.

Akcja Assassin's Creed: Revelations rozgrywa się w XVI wieku, choć miejscami fabuła przenosi się także o cztery stulecia wcześniej. Główną postacią gry jest Ezio Auditore da Firenze, czyli bohater Assassin's Creed II oraz Assassin's Creed: Brotherhood. Wyrusza on w pełną niebezpieczeństw podróż śladami swego przodka i jednocześnie mistrza – Altaira. Trop wiedzie go do Konstantynopola, serca imperium Ottomańskiego, gdzie rosnąca armia Templariuszy grozi destabilizacją regionu.

Fabuła Assassin's Creed: Revelations obfituje w retrospekcje oraz wątki poboczne. Deweloperzy zadbali o niepowtarzalność każdorazowej rozgrywki, implementując m.in. mechanizm misji będących wynikiem przypadkowych zdarzeń lub zlecanych przez losowo napotkane postaci niezależne.

Nowości w grze to m.in. specjalny hak, umożliwiający pokonywanie odległości na zasadzie trawersu linowego (tzw. zjazd tyrolski). Rozwiązanie to wyraźnie skraca czas potrzebny na przemieszczenie się do wybranej lokacji, jednak obarczone jest pewnym ograniczeniami. Tradycyjnie już wcielając się w asasynów gracze mają dostęp do szeregu zabójczych broni. Ciekawostkę stanowi system konstruowania bomb. Łącząc różnego rodzaju składniki przygotować można 300 różnego rodzaju ładunków przydanych w trakcie wykonywania zadań.

Twórcy gry zdecydowali się także rozbudować takie elementy rozgrywki jak chociażby funkcja "eagle eye", którą przemianowano na "eagle sense". Pozwala ona głównemu bohaterowi przewidzieć kierunek, w jakim porusza się wskazany przeciwnik lub postać niezależna. Zmianie uległ również system poszerzania strefy wpływów w mieście. Znane z poprzedniej części Wieże Borgiów zastąpione zostały przez Kryjówki Templariuszy. Sposób ich zdobywania wygląda niemal identycznie, lecz tym razem niezbędna jest także obrona raz przejętych posiadłości. W celu odparcia ataku należy zaliczyć rozbudowaną mini-grę, przypominającą pod względem mechaniki tytuły z gatunku tower defense. Bezpieczeństwo tego rodzaju kryjówek zależy jednak od rozgłosu, im baczniejszą uwagę wzbudzają poczynania zabójców, tym większe prawdopodobieństwo ataku Templariuszy.

W porównaniu do wcześniejszych odsłon serii, w Assassin's Creed: Revelations większy nacisk położono na aspekty zabawy wymagające umiejętności przewidywania i logicznego myślenia. Przykładem tego jest chociażby tryb "Black Room". Dzięki niemu korzystający z Animusa, Desmond może uzyskać dostęp do wspomnień swoich przodków. Te przedstawione są w formie łamigłówek wymagających umiejętności manipulowania przestrzenią.

Gra korzysta ze sprawdzonego silnika graficznego Anvil. Został on jednak wzbogacony o technologię animowania mimiki postaci "Mocam", łączącą tradycyjną animację z motion-capture.

Poza możliwością zabawy solowej, twórcy Assassin's Creed: Revelations zadbali o rozbudowany tryb multiplayer. Rozgrywka wieloosobowa mocno związana jest z wątkami fabularnymi gry, a gracze mają możliwość m.in. tworzenia własnych awatarów oraz zakładania gildii.


---
---
---
---
---

1 - Pobierz 8 partów gry (waga: 8.1 GB)
2 - Wypakuj (dwa razy pakowane) za pomocą programu
WinRAR
3 - Otrzymany obraz ISO zamontuj w wirtualnym napędzie (Daemon Tools)
4 - Zainstaluj
5 - Skopiuj cracka z folderu "SKIDROW" (jest na obrazie płyty) i wklej do folderu z zainstalowaną grą
6 - Graj
Nie ma plików w tym folderze

Chomikowe rozmowy

Zaprzyjaźnione i polecane chomiki
(33)